EnnoLogic now offers customers NIST traceable calibration verification certificates for its eT650D and eT1050D dual laser infrared thermometers. NIST certificates allow customers to meet industry standards for measurement verification in food safety, forensic, engineering and scientific applications of the instruments.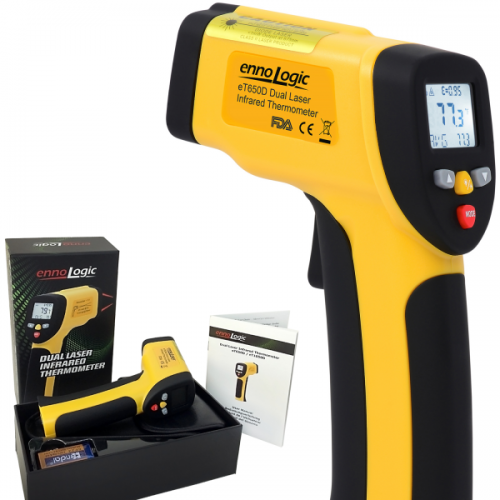 Eugene, United States - September 28, 2016 /PressCable/ —
Ennologic has announced NIST traceable calibration verification certificates are now available for the eT650D and eT1050D infrared thermometer.
The announcement follows an initial roll-out of the certification program earlier this summer to a select number of customers after numerous requests from customers for this service.
Company spokesman, Chris Johnston, said that the NIST certificate program was the first step in a long term plan to meet the changing needs of EnnoLogic customers in business sectors including food safety, forensic investigations and other fields where applications were experiencing an increased demand for NIST-traceable accuracy and high reliability standards.
The certification program is carried out through a series of carefully documented quality control procedures which track each unit as it moves through the manufacturing and distribution process. Each unit is tested with NIST-traceable calibration equipment before being shipped out for distribution.
"NIST certification allows our customers to have confidence in the calibration of our products, providing a recognized scientific standard for our instruments that confirms the trust that our customers have been placing in our brand." said Johnston ". This allows those customers in industries which require higher standards of accuracy for reporting to use our instruments with confidence."
According to Johnston, such customers include food safety inspectors working under new FDA guidelines, forensic and other investigators whose findings must be reported to legal departments or in courts, and scientists working with high performance equipment requiring specific operating temperature parameters for top efficiency or safety reasons.
"We've seen a steady increase in demand for calibration verification since the introduction of the eT650D in 2014, and this was a next logical step for us in meeting the needs of our customers." Johnston stated.
The eT650D thermometer is a dual laser non-contact infrared thermometer with a temperature range of -58°F to 1202°F, while the eT1050D provides an even high temperature range of up to 1922°F. The units include a 9-Volt battery, detailed user manual, and soft holster-style carrying case.
About EnnoLogic
EnnoLogic is a brand of high-quality electronics products with a focus on measurement and test instruments. The brand's goal is to offer reliable, accurate, high-quality technology products at affordable prices. The EnnoLogic brand was founded in 2013 in Eugene, Oregon.
For more information, please visit http://ennoLogic.com
Contact Info:
Name: Chris Johnston
Email: press@ennoLogic.com
Organization: ennoLogic
Address: PO Box 25207
Phone: (541) 525-9175
Release ID: 134496